I have sat down a couple of times to try and come up with a fitting tribute to someone that I truly consider to be a best friend. I first met Hugh when I began working for Simmons Outdoor. As my 'trainer' he brags (rightfully so) that he 'taught me everything I know, just not everything he knows.' We laugh about it a little bit but there is a lot of truth to that statement. I constantly find myself learning something new from him.
On one of our combined sales trips to Texas we stood in line behind the rental car counter waiting for our turn. I had reserved my car in advance and had gotten a cheaper rate. True to form, Hugh tried to negotiate with the girl to get the same rate that they had offered me. His argument was that I, his associate, had a cheaper rate and because we were 'associates' we should be paying the same price. She refused to give him the discount and he reluctantly agreed to pay the rate she was asking for. Well, Hugh and I have become much more than 'associates' over the years. In addition to considering him a best friend and associate, I also consider him an outstanding example, personal confidant and mentor. I would be hard pressed to think of someone that I admire and respect more than Hugh.
Some of my favorite memories of Hugh are the times that we spent working together. Whether is was singing along to 'Sailing' (Christopher Cross) as we were driving on I-80 out to Wendover, mountain biking on a sales retreat, or hitting up the closest Chinese buffet, we always had a great time. There were times that I would be driving the two of us around and he would turn to me and say, 'I'm going to go Kawabata on you'…which meant he was going to take a nap until we got to where we were going...he coined the phrase because when he was training me I would fall asleep on some of our long drives.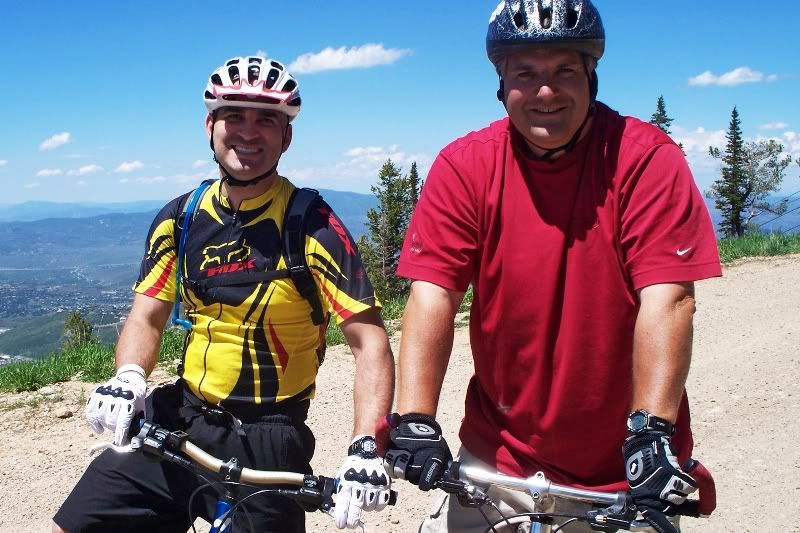 Speaking of phrases, a couple of week ago, I sat in the living room with Hugh and read aloud some of the letters he had just received from Darren. As I read through them, I'd come to phrases that made no sense to me but that brought smiles to Hugh's face because he understood and appreciated them. Fortunately, there were some of the phrases that he used the carried over into his work life that I came to know all too well. It is not uncommon to hear Hugh say, 'what do you want, the sun and the moon with a fence around them?'…'what do you want, eggs in your beer?'...'what the fetch!'…'he totally got poned'…and my personal favorite was when someone would tell an unbelievable story he would ask them if 'they found a $10 bill too.' More than the phrases are the smiles that come to his face when he says them.
There were also some common phrases that he used when it came to training me how to be a better sales person. He would encourage me by saying, 'see the people', 'press the flesh', or, 'all they can say is no'. I still love to go on sales calls with Hugh and see him in action. I consider it one of the great privileges of my life. He always seems to know when it is time to talk and when it is best to be quiet and let the customer break the silence. He has a way of finding common ground with just about everyone he meets. I didn't know him as a missionary but I'd be willing to bet that the same qualities that make him a great sales person are the same ones that made him an even better missionary.
One of the things that I am most grateful for in my association with Hugh is that the greatest lessons I learned were not about sales but about life and love. Among his greatest attributes are his love for, and faith in, God and his family. I've always felt that the best compliments given are the ones that are unsolicited and will likely never get back to the person that they are said about. That is one of the reasons that I appreciate hearing about the most recent accomplishments of his children and wife. Whether it was Diane getting a new job, Darren playing the piano for the school musical, or Jerry playing for BYU, he speaks of their accomplishments as if they are his own. You can see the pride that comes over his face each time he speaks of any of them and you catch a glimpse of just how much he loves them.
Of the many proud moments that Hugh has had as a parent, few compare to seeing Darren receive his mission call. When he told me about the mission call he humbly admitted that he wasn't sure how he was going to get along without him. He then proceeded to tell me all of the ways that Darren had helped pick up the slack when Hugh didn't have the energy to do things that he needed to do. It is compliments like those that are most sincere and long-lasting. They are a tribute not only to Hugh but also to his family that he cares about so deeply.

Sadly, Hugh has been fighting an uphill battle with cancer for the past three years. He began going through chemotherapy a few months ago only to find out recently that it hadn't been working as well as they had hoped. The cancer had spread to other parts of his body so quickly that the doctors explained that there was not much else that they could do.
Well, a couple of weeks ago we found ourselves behind another check-out counter and he turned to me and said, 'I'm not in denial…I know that I'm sick but I don't have any other choice than to have faith and hope because it is better than facing reality.' That was another great lesson of having faith and hope in the face of adversity. Anyway, I have always appreciated Hugh's hope and unwavering faith and later that same day as we drove in the car he explained to me that his faith was not necessarily to be healed but that Heavenly Father's will would come to pass. He assured me that trials like these in life are not meant to weaken faith but to strengthen it.
There will be plenty of reality facing Hugh in the coming days and weeks but I will stand by him in faith and hope…because it is in fact better than facing reality. As Moroni said, 'God has not ceased to be a God of miracles.' The children of Israel were spared at the borders of the Red Sea, Lazarus was raised from the dead and Daniel and his 'associates' were also saved. So, I will continue to hope and pray alongside Hugh and many others for one of those miracles to happen in his life.
In doing so, I know it is also important to remember that even when the Savior prayed and said, 'remove this cup from me: nevertheless my will, but thine, be done' he was not spared. However, 'there appeared unto him an angel from heaven, strengthening him.' in cases like those when we are allowed to go through unimaginable pain and suffering that we would prefer to avoid, the Lord provides us with heavenly help to strengthen us.
Hugh has taught me to be the salesperson I am, and the person I want to be. Thank you, Hugh. My love, thoughts, and prayers are with you and your family during this trial!